July 2009
Yellowstone National Park, Wyoming,
September 17, 2007
____________
Tower Falls and Canyon area Yellowstone images
____________
Fifth Avenue rock formations,
Arches National Park, Utah
September 24, 2007
____________
____________

Petit Jean State Park, Arkansas
____________
Petit Jean State Park and Petit Jean Mountain images
____________
Great Smoky Mountains National Park, Tennessee
____________
Great Smoky Mountains National Park images
____________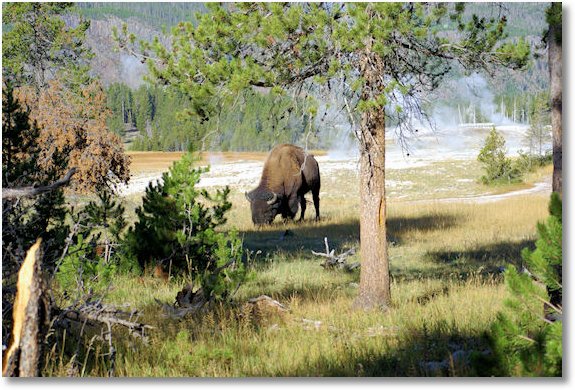 Park Visitor Gored By Bison
—————————————————————-
YELLOWSTONE NATIONAL PARK NEWS RELEASE
—————————————————————-
A visitor from Southern California was gored by a bison in a Yellowstone National Park campground Wednesday morning.
The 55-year-old man from Norco, California, was staying in Bridge Bay Campground. About 11:30 a.m., he was taking pictures of a bull bison that was wandering among the campsites. When the two got to within about ten feet of each other, the bison charged the camper.
The man received a puncture wound to the upper left thigh. He was treated at the Lake Clinic, and then transported by ambulance to St. John's Medical Center in Jackson, Wyoming. His injuries are not considered to be life threatening. The man's name is not immediately available.
This is the second time a park visitor has been injured by a bison this summer. A 50-year-old woman from Spain was tossed in the air by a bull bison in the Canyon area on June 24, while talking on a pay phone. She was treated for minor injuries.
A bull bison can stand six feet tall, weigh up to 2,000 pounds, and run at speeds up to 30 miles an hour. Bison can be dangerous at any time, but may be more so during the next several weeks which are the peak of their mating season.
Park regulations require people to stay at least 25 yards away from most animals like bison and elk, and at least 100 yards away from bears and wolves at all times. Those who fail to abide by these requirements not only put themselves in danger, they may also be subject to a citation and fine.
Visitors desiring a closer look at animals are encouraged to use binoculars, a spotting scope, or the zoom lens on their still or video camera.
My newest gallery of images is from two weekend visits to the Dane County Farmers' Market on the Square in Madison, Wisconsin, on September 13 and 20, 2008.
Both visits provided a wide variety of opportunities for photography.
The first weekend visit was on a rainy Saturday. A number of the gallery images include people with umbrellas while others are of the vendors and their products. There are also several photos that include the Wisconsin Capitol building.
The second Saturday visit was a sunny day. Along with the product vendors, there were also musicians and street artists.
The Saturday farmers' market is huge. We made it all the way around the square on the first visit in about 2 hours.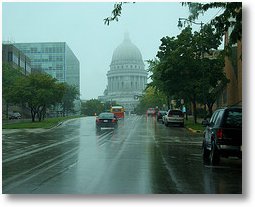 The Farmers' Market is held on Saturdays, rain or shine, from the middle of April through the beginning of November around the state Capitol Square. It is also held on Wednesdays during the same period in the 200 block of Martin Luther King, Jr. Blvd., rain or shine. During the winter, it can be found at other locations — indoors, of course.
The market is a producer-only farmers' market. All products in the market are produced by the vendor doing the selling. No resale is allowed.
The Dane County Farmers' Market (DCFM), operating continuously since 1972, is an outlet for Wisconsin-produced homegrown fruits, vegetables, meats, cheese, eggs, bakery products, cider, maple syrup, honey, sorghum, fresh and dried flowers, herbs, houseplants, jams and jellies, pickles and other prepared food products.

… intended to give growers and producers of goods and consumers an opportunity to deal directly with each other, rather than through third parties.

… intended to enhance the Capitol-Concourse area of the City of Madison.
More information on the farmers' market can be found on the Dane County Farmers' Market on the Square website.
____________________
Haw Creek's Dane County Farmers' Market on the Square photo gallery